Updated December 12th, 2017

FBCO Family,
As many of you make your way back the Valley, we want to let you know what to expect this week and, more importantly, how to help those in need after the fires.
COMING UP THIS WEEK:
Awana is cancelled for this Wednesday, Dec 13th. This, along with the two week Christmas break, means Awana will resume January 3rd.
The Harrells will join us this Thursday from 7-9pm at FBCO for a night of prayer, communion, and worship. All are welcome!
We will have our regular Sunday gathering this Sunday at 10am.

TO HELP THOSE IN NEED:
We are collecting funds to purchase children's Christmas gifts for the Dale and Rogers families, both of whom lost presents in the fires. Contributions may be brought to any service this week or dropped off at the church during office hours by December 22nd. Please contact Dave Walker or Brandy Gregory if you have questions or would like to purchase specific gifts.
A special offering will be collected this Sunday for the Deacon's Fund, which is used to help meet financial needs of church members. Please plan to bring your earmarked gift this Sunday should you want to contribute. Gifts may also be given to this fund online.
We are also collecting gifts cards for our families in need. Walmart, Target, Home Depot, Amazon, and Vons are all good options.
Finally, our staff is compiling a list of community resources for those in need that will be availabe at the church and on our website later this week.
During these challenging times, may we remember that the way we love those within God's family is a display of our love for God himself. More than that, our care for one another tells the world just how generous our God truly is! Thank you all for bearing the burdens of our brothers and sisters.

I was hungry and you gave me food, I was thirsty and you gave me drink, I was a stranger and you welcomed me, I was naked and you clothed me...Truly, I say to you, as you did it to one of the least of these my brothers, you did it to me." Matthew 25:35–40

Enjoy grace,
Pastor Nick
____________________________________________________________________________


Updated December 8th, 2017

FBCO Family,
We have decided that we will NOT meet this Sunday morning for a church gathering. Conditions are simply too dangerous. The Ventura County Air Pollution Control District has categorized Ojai's air quality as "hazardous" (a step worse than "unhealthy"), and we want to heed the warnings of our local officials and not endanger any of our people.
Instead of a Sunday service, we encourage you to gather your family for a time of worship, maybe even pulling in some neighbors along the way. We've created a WORSHIP HANDOUT to follow. Feel free to adjust it in order to make it your own and create a meaningful time of worship and seeking God's continued help after an incredibly difficult week.
We are praying for you, your families, our church, and our communities. Let us know how we can serve you along the way.
Nick
____________________________________________________________________________
Updated December 7th, 2017
FBCO Family,
We continue to wait and watch the fires and winds around Ojai. It seems that each night brings renewed danger, though there has been much misinformation making the rounds. We praise God that thus far our church family members and our church campus are safe.
The Rogers home was severely damaged due to fire and is uninhabitable. They were only able to pack a few essentials and are now looking for a place to live long term that can also accomodate their 2 cats and small dog. Please let us know if you may be able to help.
Our hope is to gather on Sunday to be together, to worship, and to pray. Currently only about half the church campus has electricty. For now we need to assess conditions day by day and will keep you up to date. May we keep praying and sharing our needs with one another.
Trusting in the strength and goodness of our God,
Pastor Nick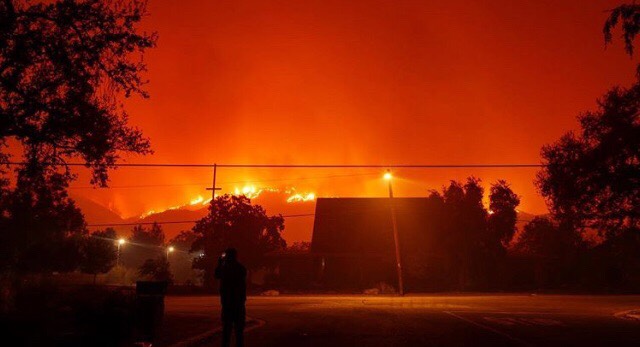 ____________________________________________________________________________
Updated December 6th, 2017
FBCO Family,
In light of the Thomas Fire, the many evacuations, and the current safety and air quality in Ojai, the Christmas Pageant performances and all rehearsals have been cancelled. We will post more updates soon regarding plans for Sunday worship.
Please stay safe and let us know any needs or updates you have to share.
____________________________________________________________________________

Updated December 5th, 2017
FBCO Family,
Tonight we grieve and pray together. We know of some who have lost their homes, some who are currently in shelters, and many more who have evacuated to safer places.
Our church faciltites were open today for those in need of shelter and a home cooked meal. Though we don't know what tonight or tomorrow will hold, as it is safe to do so we will continue the same. At this time, donations of food, water, and clothing are best directed to area shelters. Beyond that, most charities prefer monetary donations, which are more flexible and can be directed toward the greatest need. One good place to easily give is
the Los Angeles Red Cross
. In the coming days we will assess when it may be best for us to collect donations of clothing, household items, Christmas gifts, etc. for those displaced and/or hurting.
If you have specific needs or simply want to let your church family know how you are doing, please email me at
nick@fbcojai.org
and Debbie Evans at
debbie.evans495@gmail.com
, or you may call me at 805-574-7892.
Let's continue to appeal to our great God for the care and protection that only he can provide!
Pastor Nick
Our Father,

Have mercy on those living through this terrible threat of fire in our county and beyond. Please bring an end to the loss of life and the loss of homes. Bring aid to the firefighters who are so diligently serving others, even at risk to themselves and their families. Provide them courage and strength to persevere. Give wisdom to those who must make important decisions for the sake of families and property. Give comfort to all those who have suffered loss. Guard those for whom the smoke is a health threat. Bring hope to the displaced and the homeless. Be comfort and relief to the grieving.

Lord, you can calm storms and quench fires. Ease the winds that spread these flames and disperse the smoke that covers the sky. We ask boldly that you would extinguish these fires. May our hearts never turn away from you or from each other in this time of need.
In the strong name of Jesus,
amen.